In part one on our exploration of Invisalign, we looked at what it is and covered a few bite patterns that it can help treat. Stick around for today's post as we continue the conversation on Invisalign.
At Zen Smiles Miami, Dr. Karen Martinez, DMD fosters a patient-centered practice that advocates preventative dental care and education. Find a variety of services from family dentistry to cosmetic dental care.

Bite Patterns That Invisalign Treats
Open bite – An open bite happens when your upper and bottom teeth don't touch, making chewing difficult. Invisalign addressed those with an open bite with great success.
Crowded teeth – Your teeth become crowded when there is not enough room for them to properly fit. Teeth twist, overlap, and bunch up. Flossing and brushing may become difficult, making it easier for plaque, tartar, and cavities to form. Teeth shift over time, so crowded teeth may get worse. Invisalign corrects and fixes crowded teeth.
Minor teeth issues – Sometimes straightening your teeth is purely aesthetic, and perhaps you have one crooked tooth that you want to be fixed. Invisalign can address these small issues.
How Does Invisalign Work?
You can start the Invisalign procedure with a qualified dentist and after the initial consult, you'll receive a digital scan of your teeth showing every shift and movement in the process, from start to finish. The Invisalign retainers are made from SmartTrack material developed by biomechanical engineers to provide your teeth with the right amount of force while remaining supple and free from pain. The material is flexible and has precision trimming so it doesn't cut or scrape against your gums like other companies do. Because Invisalign has successfully treated over 5 million smiles, they've perfected they're orthodontic technology and can straighten teeth in as little as three months.
Find freedom in Invisalign.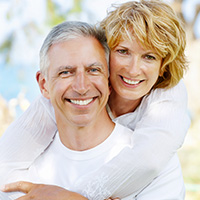 Invisalign is perfect for anyone who is looking for a teeth straightening option that doesn't interrupt their daily life. With Invisalign you're able to:
Live bracket- and wire-free and continue to brush and floss as you normally would.
Continue eating all the foods on the braces "do not eat list."
Stay active in sports without having to worry about getting hit in the mouth.
Hassle-free maintenance without wires and brackets breaking.
With Invisalign you'll wear your trays for up to 20 to 22 hours a day, only taking them out to eat, drink, and clean your teeth. Some retainers can even have a blue compliance indicator to ensure that you're wearing them enough — this is great for our teen patients! Each retainer is worn on average of one to two weeks before a new one is prescribed, and checkups are every six to eight weeks to evaluate your progress — less time at the dentist gives you more time to enjoy the things you love!
When you do receive a set of new retainers, a little extra pressure is normal and you may feel some discomfort the first couple of days.
Invisalign treats almost all orthodontic bite patterns and you can quickly get started with a simple digital scan and receive your first pair of Invisalign retainers that stand out from others because of their SmartTrack technology that provides the utmost comfort.
Live freely with Invisalign retainers today!
To schedule an Invisalign consult or to find out more information on Invisalign, connect with our office today!