There are many variables in your dental health habits that are both beneficial and harmful to your teeth, and we've covered a couple of topics about food and beverages that damage enamel. The best and most simple advice dental care recommendations haven't changed — it's routinely seeing your local dentist for a teeth cleaning twice a year. At home care is brushing twice a day and flossing at least twice. These are the basics and the non-negotiables to healthy teeth. To further expand dental health habits for optimal health, you can address your diet and lifestyle habits to help prevent tooth decay.

Did you know there are other factors that can affect your dental health? Some medications tend to bring adverse side effects to your oral health. Read more to find out how medications can affect your dental health.
Medications and Dental Health
It is estimated that nearly 70 percent of Americans are on at least one prescribed medication, and more than one in two take two, all ranging from antidepressants, opioids, and antibiotics. With a majority of the population on prescription medications, it's important to address what their side effects are in terms of dental health. On the list of side effects it does not list "tooth decay," but a majority of them do cause dry mouth. In addition to dry mouth, medications can also cause abnormal bleeding, inflammation, mouth sores, enamel discoloration, and an altered taste.
Dry Mouth and Dental Health
Dry mouth can inadvertently cause tooth decay because your saliva production decreases when you take certain medications. Saliva is a crucial component to dental health because it does a wonderful job of washing food and debris from your teeth after a meal and throughout the day. An absence of saliva leaves room for food to stick to your teeth and inhabit the small nooks and crannies leaving them susceptible to bacteria to produce acid and slowly demineralize the enamel causing cavities. Ultimately, dry mouth increases your risk for cavities and infection.
When you're left taking a medication and it causes dry mouth, it's not as simple as stopping the medication cold turkey — this can be harmful in and of itself. The question resides in how can you find a balance of addressing dry mouth while continuing your prescription medication? The first step is communicating with your dentist the medication you've been prescribed. If the medication is short-term — like an antibiotic — you don't need to worry as much. If the medication is something you'll be on long-term, this is when you'll need to talk with your dentist and make a plan of action.
Small Changes to Help With Dry Mouth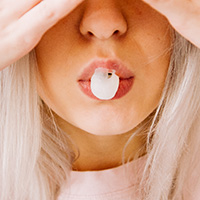 There are small changes you can make to address dry mouth including:
Chewing sugarless gum (xylitol gum is great for dental health)
Drinking water throughout the day and after meals
Brushing and flossing regularly
Medications That Cause Dry Mouth
Over 500 types of medications are reported to cause dry mouth, here are the most common ones:
Decongestants and antihistamines – Because both of these medications address seasonal allergies by blocking histamine receptors, it also affects other parts of the body such as the mouth and tongue. Antihistamines deter saliva production, thus causing dry mouth.
Antidepressants – Both selective serotonin reuptake inhibitors (SSRIs), tricyclic antidepressants, and atypical depressants are known to cause dry mouth. Likewise, they've been known to negatively affect bone health as well, linking them to tooth decay, gum disease, oral yeast overgrowth, and bad breath.
In today's blog, we've covered how medications cause dry mouth through declining saliva production, small changes to help your dry mouth, and some medications that cause it.
Stay tuned for part two, where we'll expand on the medications and additional dental issues that may occur when taking medication.
To schedule a teeth cleaning in our dental office, give us a call today!